NBA Slam Dunk Contest 2014: Grading Every Dunk and Every Participant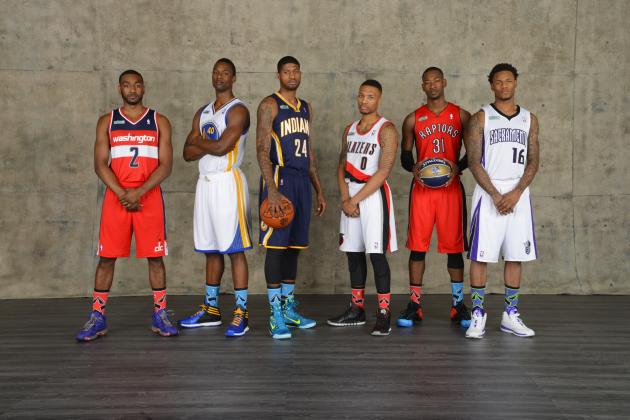 Jesse D. Garrabrant/Getty Images

The 2014 Sprite Slam Dunk Contest was unfortunately robbed of much of its luster by a new format that fell flat.
The festivities kicked off with 90-second team rounds that ended up looking like little more than pregame warmups. Team East was represented by John Wall, Paul George and Terrence Ross. Team West featured Damian Lillard, Harrison Barnes and Ben McLemore.
All three dunkers from each team went at the same time during that opening round, and then the judges selected a winning trio.
The reward for that simply granted the East squad the opportunity to choose the matchups in the battle round, in which one dunker from each team went head-to-head. Judges then picked winners of each battle round, after which the contest abruptly ended.
When Vince Carter was in a dunk contest, "it's over" wasn't so much a question as it was a statement. Tonight, it was definitely a question.

— Garrett Jochnau (@GarrettJochnau) February 16, 2014
If I had to give a grade for the layout of the event, I'd likely go with an "F." Unfortunately, it inhibited what might have been a pretty good contest. Not even a spectacular show from Wall on his final dunk could salvage the new format.
On the bright side, there were still some great moments from individual dunkers.
Begin Slideshow

»
To start of the team rounds, Ross threw down a nice reverse two-handed dunk he pumped down below his waist.
The execution was good. The finish was clean. But it certainly wasn't anything we haven't seen before.
Grade: C+
Wall went next with a nice self-oop that he started on one side and then finished with a windmill on the other.
It was clear from the get-go that Wall was feeling some pretty insane bounce.
Grade: B-
We got our first taste of the teamwork aspect of this first round on Paul George's opening dunk.
As John Wall was walking off after his windmill, he left a little oop bounce pass for George, who did a reverse, two-handed windmill.
It was effortless, smooth and clean—probably a little underrated and under-hyped due to the fast-paced nature of the round.
Grade: A
John Wall's second dunk was a pretty simple self-oop tomahawk. We didn't really get a chance to see how high he was because of the camera angle and lack of replays during the first round.
It came off as little more than a one-handed dunk.
Grade: C
The first of two double-oops from Team East was started by George, who bounced it to Wall, who bounced it to Ross, who finished it off with a tomahawk that he cocked back well behind his head.
He had some nice elevation and power, but again, a lot of the excitement was pretty much stripped by the format.
Grade: B-
Team East finished off their first round with a fun little double-oop. It started with Ross ricocheting it off the glass, followed by Wall throwing it off the shot clock and finished off with George going for the tomahawk.
Grade: A-
After Team West missed three dunks in the first 30 seconds of its round, Harrison Barnes got his first dunk of the night.
It was a powerful, two-handed windmill. Because of the camera angle and without the benefit of replay, it was hard to get a real sense of Barnes' elevation.
Even still, it was clear that it wasn't really something a ton of guys could pull off on a fast break in a game.
Grade: C
Ben McLemore's first make was actually better because of a little fumble when he caught his self-oop.
His pass bounced really high off the ground and it took him a second to secure the ball before hammering it home with one hand.
It ended up accentuating his hang time.
Grade: B+
The best dunk of the new team round undoubtedly came from Damian Lillard. He tossed a self-oop and finished it by going between the legs.
Grade: A
McLemore's second dunk really wasn't much more than his first. Again, it was a classic self-oop bounce. He got up nice and high, and added a little windmill action this time around.
Grade: B
Barnes' next dunk was once again something that might not even be too spectacular in a game. He went up and did your basic windmill that probably happens a couple of times a week in the NBA.
Grade: D
Lillard kicked off the battle round with a nice self-oop 360 that he cocked below his waist and then threw down left-handed.
Lillard was short-changed more than once on this night, and this was one of those occasions.
Grade: B+
The theatrics finally got started with Ross' first dunk of the battle round. The Toronto Raptors star came out with Canadian rapper Drake, who held the ball off to the side of his body and in front of the rim.
Ross took off from a pretty decent distance, grabbed the ball and then took it through the legs.
It was probably the best actual battle of the night, as it wouldn't have been too upsetting to see either Ross or Lillard taking this one.
The judges went with Ross, citing degree of difficulty.
Grade: A-
Barnes' battle-round dunk may have been the dud of the night. It took him three attempts to go up, do some kind of "windmill" in which he barely moved the ball and dunk it with two hands.
Grade: D
From about here on, this dunk contest wasn't half-bad. George's battle-round dunk made this a complete no-brainer of a decision for the judges.
George ran up on the rim from the baseline, took off with two feet and did a between-the-legs dunk while spinning a complete 360.
It took him a few attempts, but once he finally put it through, it was beautiful.
Grade: A+
The winner for pre-dunk drama was without question McLemore and his use of Shaquille O'Neal.
The two came out with a medieval hype man who proclaimed that "Shaq-ramento" would henceforth be known as "Shaq-Lemore."
They then moved on to the dunking portion of the show, in which McLemore leapt over Shaq sitting in a throne. He split his legs to clear the 7-footer and then stuffed it with one hand.
Grade: A
It's a tough call between this and George's 360, between-the-legs for dunk of the night.
I probably have to go with this reverse from Wall because it's something I've never seen before.
Wizards mascot G-Man held the ball above his head on one side of the rim, Wall took off from the other side, grabbed the ball, cocked it between his legs and then threw it down with two hands as he was flying away from the hoop.
It was a breathtaking finish to a contest made somewhat bizarre by this new format.
Grade: A+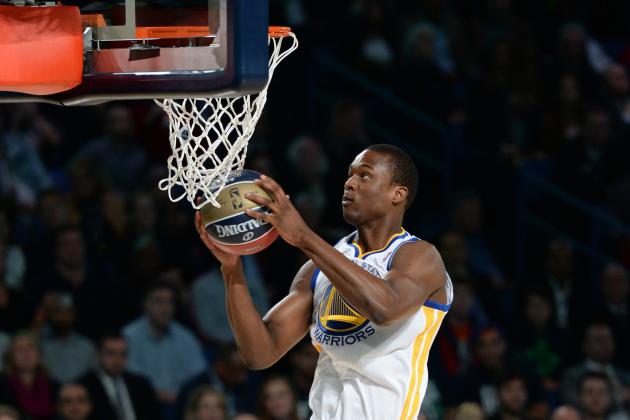 Noah Graham/Getty Images

Barnes looked completely overmatched throughout the night.
All he did was a few variations of the windmill, none of which were particularly impressive.
As I said about some of his individual dunks, he really didn't execute anything you wouldn't see during a game.
Grade: D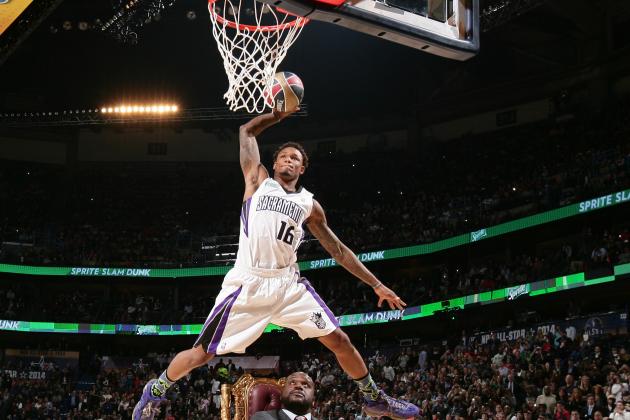 Nathaniel S. Butler/Getty Images

McLemore had a strong showing as a rookie in his first dunk contest.
He didn't offer a ton of creativity in the team round, but his dunks there exhibited his incredible leaping ability and hang time.
The dunk over Shaq was great, too, but had the unfortunate distinction of coming right before Wall's showstopper.
Grade: B+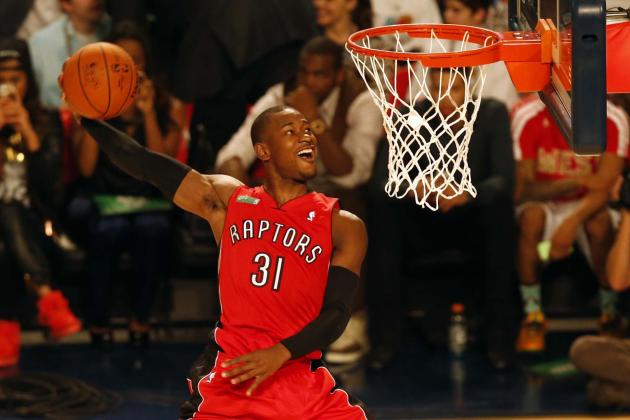 Derick E. Hingle-USA TODAY Sport

Defending champion Ross was fairly solid throughout the night, but he didn't really do anything to blow me or the judges away.
His biggest highlight was probably the between-the-legs dunk he finished after grabbing the ball from Drake. But it was pretty much buried, as four more dunkers went after him and he had no chance to respond.
Grade: B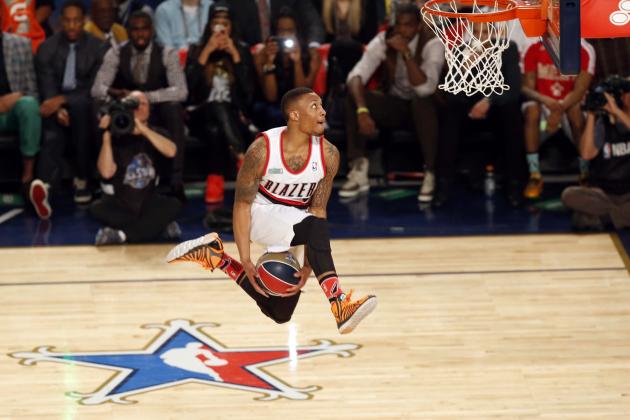 Derick E. Hingle-USA TODAY Sport

Lillard was a victim of the new format.
He had possibly the best dunk of the opening team round, but because there was no time to appreciate it, his between-the-legs oop to himself was somewhat swept under the rug.
His loss to Ross in the battle round was unfortunate as well. It could've gone either way.
Grade: A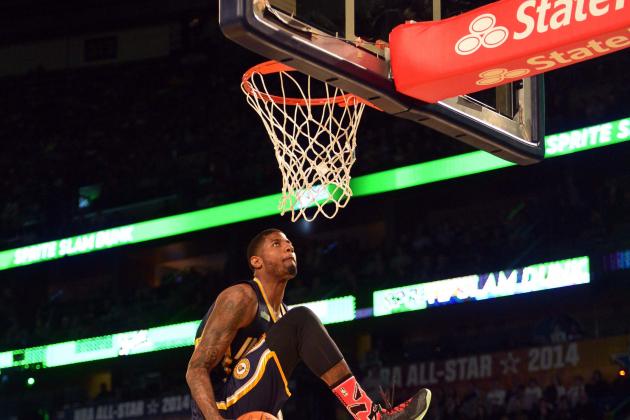 Bob Donnan-USA TODAY Sports

George had a great night and likely would have gotten more pub had this contest been arranged in a more traditional format.
He and Wall probably would've faced off in a final round, giving them more chances to leave a lasting impression.
But despite the strange new rules, George stood out because of the elevation and fluidity of each one of his finishes.
Grade: A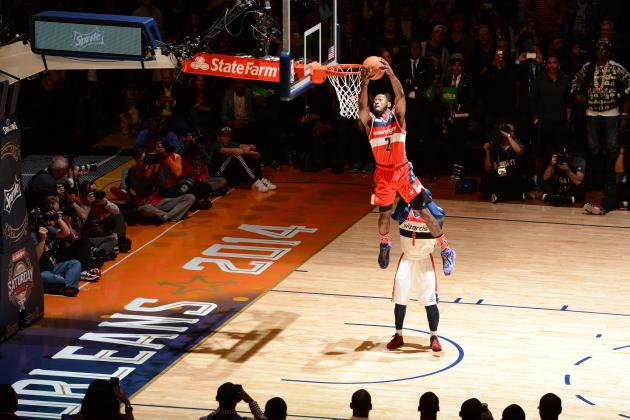 Garrett Ellwood/Getty Images

The winner of the fan vote for "Dunker of the Night" went to John Wall after he got the chance to throw down the final jam of the evening.
It just so happened that it was the highlight of the show. The dunk over G-Man displayed Wall's unreal athleticism, as did every one of his finishes.
Magic Johnson even said Wall "brought the Slam Dunk back."
Grade: A+
Andy Bailey covers the NBA for Bleacher Report.